Aschenbrenner printing house supplies POLAR BC 330 with green power
For some months now, the first POLAR BC 330 installed in Austria has been successfully used at the Aschenbrenner printing house. Investing in the three-side trimmer allows Aschenbrenner to manufacture perfect-bound brochures much faster. The ecologically oriented business powers the BC 330 from a photovoltaic system installed on the roof of the company building.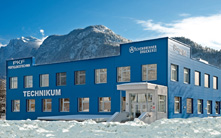 Premises of Aschenbrenner printing house Soon after commissioning the Heidelberg Eurobind 600 PUR, Mr. Aschenbrenner was already wondering how to optimize the cutting process. He soon found the three-side trimmer made by POLAR to be the right solution. After visiting a colleague he saw for himself that the machine is very practical and offers high quality. "I was not only convinced by the sturdy construction of the BC 330, but also by its cutting quality, which surpasses even our very high quality requirements," managing director Aschenbrenner says of his decision in favor of the BC 330. "Automating the cutting process has helped to markedly reduce production times of perfect-bound brochures," he continues, extremely satisfied with his investment. This is possible, because the operator of the perfect binder also takes care of the three-side trimmer. While the BC 330 is automatically cutting, the operator can continue working at the EB 600.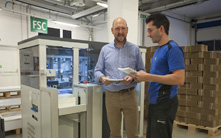 Peter Aschenbrenner with BC 330 Three-side trimmer POLAR BC 330
In contrast to a three-knife trimmer, the BC 330 is equipped with only one knife. A pivoted gripper puts the product into the respective cutting position. Any size from 105 x 148 mm to 303 x 325 mm can be processed without any need of conversion. The robust cutting unit guarantees a precise cut that is gentle on the material. It allows the handling of material up to a maximum thickness of 51 mm. Stacking several products on top of each other increases the output to a maximum of 520 books per hour. Recurring cutting dimensions can be stored and adapted at any time. The machine can be equipped with a barcode reader to automatically launch the cutting program.

About the Aschenbrenner printing house
Since 1992 the Aschenbrenner printing house has been a capable partner in typesetting, printing, refining, finishing, shipping and delivery service for its customers in Kufstein and the surrounding area. The commercial printing company works with the 50 × 70 format. In two shifts per day a staff of 18 produce almost everything their customers want, from letter sheets and folded flyers right through to brochures. Excellent customer satisfaction and above-average print quality are the particular features of the enterprise. Aschenbrenner pays particular attention to environmental protection and ecology. The printer uses exclusively organic printing inks from renewable raw materials as well as water-based ecological printing varnishes. Regarding the power input, the company relies one hundred percent on green electricity and produces some of the energy with a photovoltaic system installed on the roof of the company building.

Contact:
Druckerei Aschenbrenner GmbH
Peter Aschenbrenner, Managing Director
Untere Sparchen 50
A-6330 Kufstein, Austria
Phone: +43 (0) 53 72 / 6 52 00 - 43
E-Mail:
Homepage: www.aschenbrenner.at
Hofheim, 11 November 2014