In general, high-speed cutters made by POLAR are conceived for the printing business meeting the special demands of this industry. All over the world, hundreds of thousands of our machines are busy cutting both printed and unprinted paper.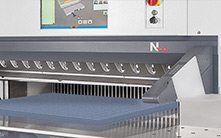 Throughout the years, we have time and time again been confronted with processing cuttable materials which have nothing to do with the bookbinding or printing business. For example: Plasticized PVC, polyethylene, acetate film, plastic signs, wafers, plastic wraps, wrapping paper, aluminum foil, aluminum sheets, rubber, antirust paper and photo paper. Additionally, leather, leather cardboard, plate filters, medical filters, carpet specimen, felt, non-woven cloth, cork, bitumen/asphalt, fiberglass insulation, cloth, linen, wooden veneers, or abrading material.
A long list of different materials, but all of them can be perfectly cut as long as you have a POLAR high-speed cutter and the necessary expertise.
In order to help you find a solution for your cutting needs, we have added a list of all of the kinds of cuttable materials which have been processed on POLAR machines.