drucken123 and Schweikert Druck opt for a Laser Cutter POLAR Digicut
POLAR Digicut already impressed the first time it was officially presented to customers, at the Heidelberg Print Media Center. drucken123 and Schweikert Druck spontaneously decided to buy a Digicut and thus became its two first customers.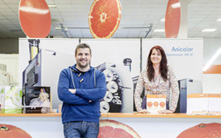 Anna and Markus Müller, managing directors of drucken123 Markus Müller, managing director of drucken123 in Aschaffenburg/Germany, was enthusiastic about Digicut from the first moment. "Jobs that I currently have to send to a service provider I will be able to handle myself in the future. The savings on the transport costs alone make this device interesting from my point of view. In addition, I have many other ideas about what to produce on the Digicut. I'm really looking forward to getting the machine."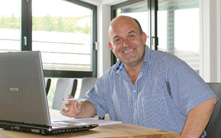 Jürgen Schweikert, owner of Schweikert Druck Jürgen Schweikert, owner of Schweikert Druck in Obersulm/Germany, regards the Digicut as a good opportunity to expand his portfolio and, consequently, increase his added value. "I am really fascinated by the fields of application the Digicut provides. We can make many new products which allow me to offer my customer an added value. Besides, my prepress staff are very inventive and I'm sure they can create a lot of these designs themselves", says Jürgen Schweikert.
POLAR Digicut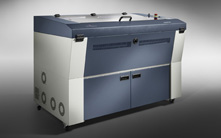 POLAR Digicut With the new POLAR Digicut you are ready to give your creative ideas the right shape. The innovative laser technology opens up numerous possibilities for treating the most versatile materials. The laser enables the most intricate contours to be not only cut, but also perforated, creased and engraved - all in a single pass. This allows you to effectively implement your ideas with no tool costs, fast and in one single pass. As a result, batches from one single copy to several hundred can be produced very economically. That makes the Digicut so exciting.
Hofheim, 4 August 2015
Watch a video clip about Digicut at: www.polar-mohr.com/digicut