POLAR's Digicut PLUS processes not only single sheets but entire booklets
Processing and individualizing middle-volume runs gains more and more relevance especially in digital printing.
The laser handles numerous ways of delicate and complex processing i. e. cutting, Kiss cutting, perforating, engraving and grooving – all in a single pass and without any tool change.
There are almost no limits to the design. The Digicut PLUS offers a wide range in creative processing. It enables precise cutting of the most intricate contours on a wide variety of materials far beyond the capabilities of any die-cutting machines.
With regards to materials it processes not only single sheets but entire booklets.
Thereby a production of one to thousands of copies is possible. In preparation of the Hunkeler Innovation Days 2019 in Lucerne, the theory was put to test together with Müller-Martini and booklets were successfully personalized.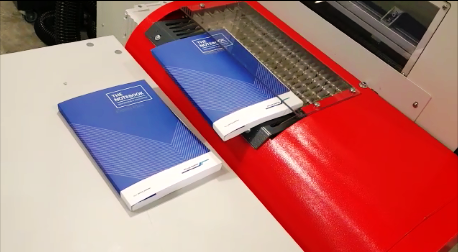 The modular material feed and delivery can be adjusted to the customer's requests. Standardized material feed via transport belt, can be complemented by an optional flat-pile feeder with its own drive Material delivery can be optionally performed by a Pick & Place System.
Find more information about Digicut PLUS here.

Watch movie
February 2019